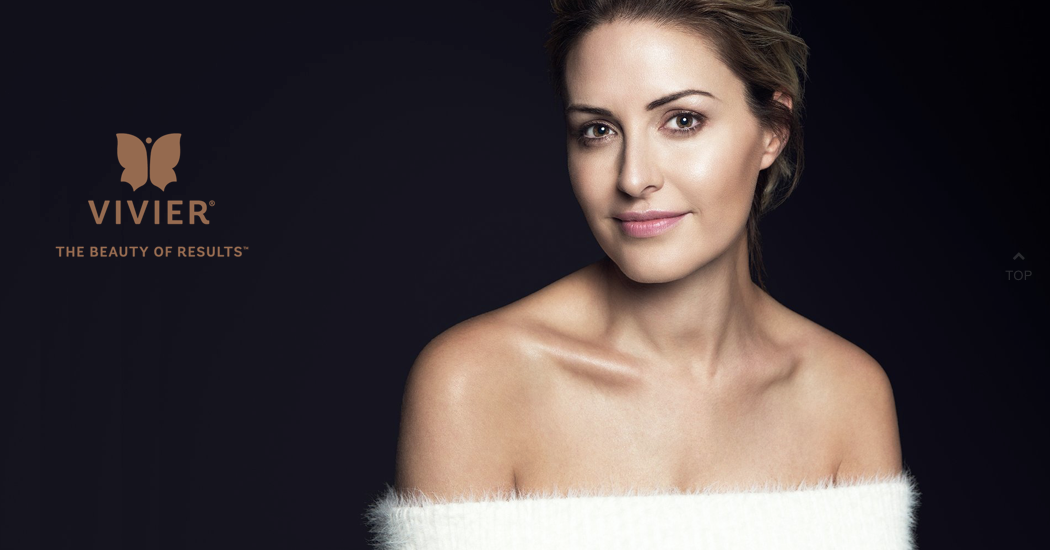 Vivier Medical Grade Peels
Facial Peels have been used for decades to rejuvenate and refine the look of our skin. The effects of chronic sun exposure, acne and aging can result in blemishes, uneven tone and pigmentation, a spotted and dull appearance, scarring or finely wrinkled areas. Vivier medical grade chemical peels work by removing the outermost layer of skin, causing immediate gratification by diminishing imperfections. Peels effectively combat dullness, blotchiness, age and sun spots, hyperpigmentation, reduce pore size and improve the look of fine lines and wrinkles. Peels can be used as a stand alone treatment or as a part of a regimented plan for more dramatic effect when combined with other treatments or procedures.
Aesthetic Solutions offers two types of medical grade chemical peels from the leaders in skincare, Vivier Pharma, to help you look and feel your best. First, the minimally invasive yet very effective Vivier Peel, also known as the "glow" peel. The second type being offered is the more intense Jessner Peel, also known as the "hollywood" peel, which is especially effective for those most concerned about hyperpigmentation, sun damage, acne and scarring.
Vivier Peel
10% Lactic Acid, 2% Salicylic Acid, 14% Resorcinol
Designed to regenerate and rejuvenate the skin, The Vivier Peel is a professional, gentle and effective option to reduce the appearance of finelines and wrinkles, minimize the look of dilated pores, hyperpigmentation, sun damage, acne & scarring with no downtime. Your skin will appear to be glowing, healthier and brighter. The Vivier peel offers predictable and controlled micro-exfoliation to promote cell renewal, clarity and radiance. For maximum benefit we recommend 3 Vivier peels to be completed, each spaced 2 – 4 weeks apart.
(Approx. 15-30 minutes) $100

Jessner Peel 
14% Salicylic Acid, 14% Lactic Acid, 14% Resorcinol
The Jessner treatment is considered to be a highly concentrated medium to deep peel that's suitable for all skin types. The Jessner is designed to be aggressive in targeting hyperpigmentation, including sun damage and scarring, as well as minimizing finelines and reducing pore size, tightening and evening out skin texture. The Jessner peel is proven effective in the treatment of acne and rosacea type breakouts. The results of the deeply penetrating Jessner peel can be seen following your first treatment, giving your complexion a radiant, healthy and refreshed appearance. For maximum benefit we recommend a minimum of 3-6 treatments, each spaced at least 4 weeks apart.
(Approx. 30 minutes) $175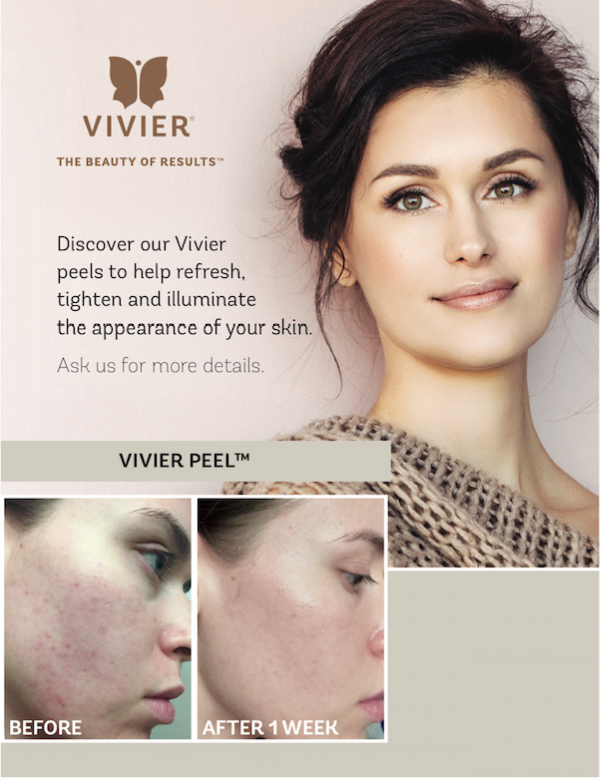 VIVIER | The Beauty of Results:
We are more then just skincare. We believe that the best skin care products must have strong science, innovative and dharma-grade ingredients and rigorous testing in order to deliver exceptional results. All Vivier products are carefully formulated and manufactured to the highest standards in order to deliver on our promise. The Beauty of Results. The goal – to empower our consumers to look and feel their best.
By using the best ingredients that are naturally found in the skin, we deliver the beauty of results. USP grade actives ensure patients have the purest and highest-quality ingredients in each and every product. Vivier's patented delivery system (IntraDermal System) guarantees that the actives are thoroughly penetrating into the skin where they are needed most.
Vivier has the science to support it's claims, which allows us to confidently recommend their products to our patients. Vivier Pharma holds its clinical studies to the highest medical and pharmaceutical standards.
Quick Facts About Your Chemical Peel
| | |
| --- | --- |
| Chemical Peels | Improve skin tone and texture, reduce fine lines, wrinkles, hyperpigmentation and sun spots, minimizes pore size, even skin color, improve scarring and reduce frequency of acne breakouts. |
| Treatment Length | Approximately 20 – 30 minutes |
| Type of Anesthetic | No anesthetic is required. Our peels are self neutralizing and are comfortably and safely performed in our clinic. |
| Return To Work/Light Activity | Immediately. No downtime. Light to Moderate peeling and flaking may occur and may last up to a week. It is recommended that you do not wear facial makeup until the day after your peel treatment. |
| Recovery Time To Physical Activity (Exercise) | We recommend that you avoid heavy perspiration for 24 hours following your peel. |
A chemical peel can achieve beautiful results on its own, or it can be performed in combination with other cosmetic procedures such as a HydraFacial for more dramatic results.